Corporate Internship Program
What better way to spend your summer than by having the opportunity to work for Carnival Cruise Line, the world's most popular cruise line. During our 10-week program, you will work hand in hand with senior leaders to develop a value-added solution across a variety of departments, based on your interests.
Meet Our People, Our Intern Program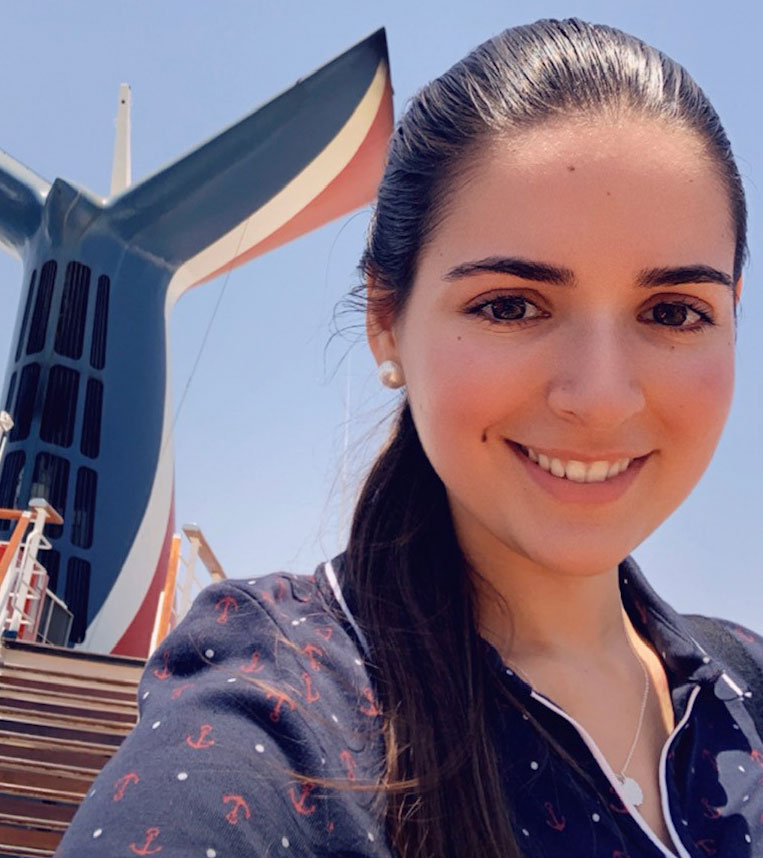 The internship experience at Carnival exceeded all my expectations, and I am so glad to be a part of such an amazing team. All of the wonderful people I have met along my journey and one-of-a-kind hands-on experiences led me to transition my internship into my current full-time role as a Network Engineer on the Network Connectivity Solutions team. One of the reasons that I love working at Carnival has always been the company culture. Carnival is all about choosing fun in everything we do, and I truly believe that my team and I achieve that.
Stephanie Gonzalez
Network Engineer, Intern from 2018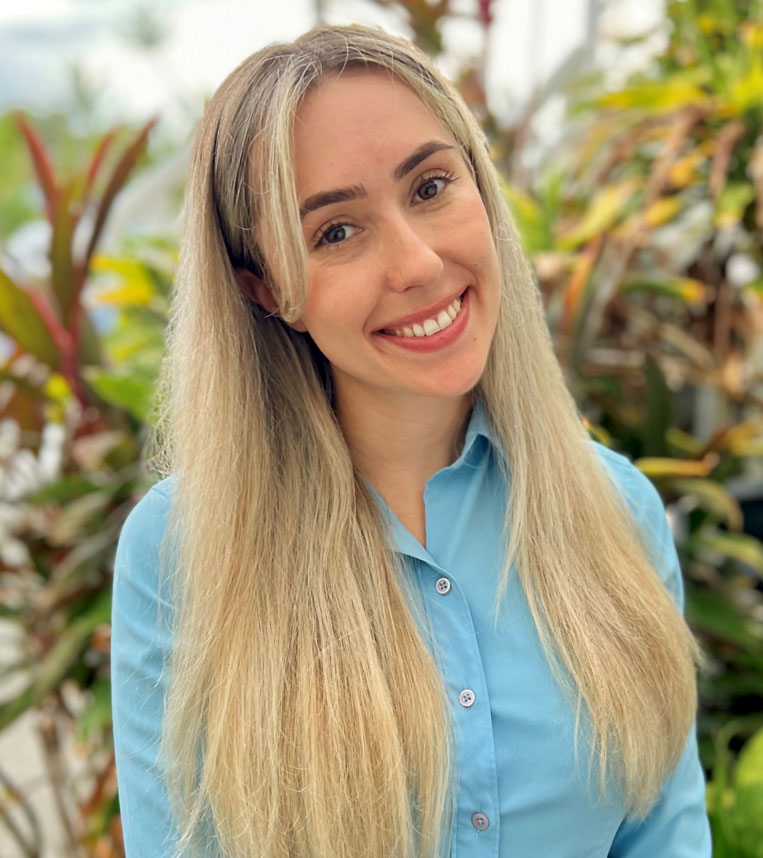 I never expected to learn so much in my department and feel part of the Carnival family so quickly. Every employee in the company wanted me to thrive in my role and learn about Carnivals' fun work culture during my internship. My director, mentor, and the Learning Development Team all provided me with all the tools for me to succeed in the Shipboard Application Department while still having fun through the process. I was able to transition easily from an intern to a Business Analyst at Carnival because I had gained so much experience in a short period.
Brenda Davis
Business Analyst, IT Shipboard Operations. Intern from 2022

Leadership Development Program
Our two year Leadership Development Program gives you three 8-month tours in distinct analytical functions of the business such as: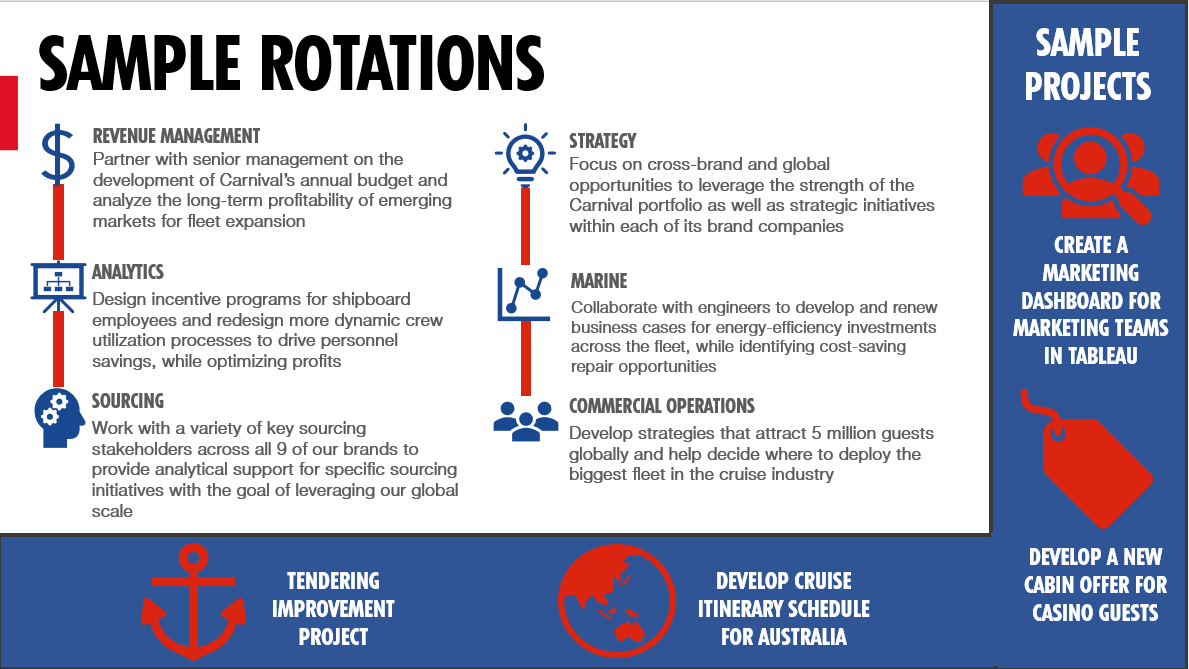 What Can You Expect?
Your first 90 days
Meet your peers, senior leaders and mentors. Learn about Carnival, your team, and get settled into your first rotation.
Personal Development
You will set goals with your team leader and have ongoing conversations to support your development.
Continuous Learning
On-the-job learning, supported by coaching, mentoring and classroom-style courses.
Rotations
Your rotations will each last eight months, providing valuable on-the-job learning.
Performance Review
At the end of each year, your team leader will review your performance based on the goals that you set earlier in the year.
Meet Our People, Our Leadership Development Program

The RA program afforded me the opportunity to work in several different areas of the business, learn new tools, and start a fast-tracked career within the company. I gained skills in analytical tools like Tableau, led projects for new initiatives, and had a hand in decision-making for large deals. My connections made through the program allowed me a great opportunity in a new role that had me organize much of Carnival's return to sailing in 2021. And even outside of work, starting to work at Carnival with a group of people in the same position as myself allowed me to make a quick group of friends here.
Chris Kennett
Business Planning Manager, 2018 Rotational Analyst

Having joined Carnival through the RA Program in 2018, I've had the opportunity to witness the tremendous impact its alums have had on the company. Not only do rotational analysts garner deep technical knowledge within their roles, but they are also afforded great exposure to high-level management across multiple areas of the business. With consistent professional guidance throughout the duration of the program, rotational analysts exit with both a full toolkit and full rolodex, making them some of the most sought-after talent within the organization. I myself exited the program as a full-time member of the Casino Marketing team where recently I've had the opportunity to grow our acquisition efforts and enhance our onboard offer fulfillment strategy. The opportunity to meaningfully contribute within an organization that invests so much in its most junior members is part of what makes Carnival a truly FUN place to begin one's career!
Joe San Nicolas
CRM Strategy & Analytics Manager, 2018 Rotational Analyst

Learn More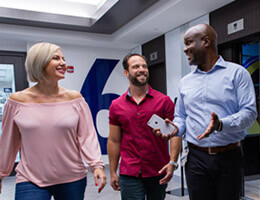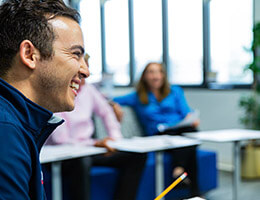 Application window for both the Leadership Development and Internship Program runs annually from September to March. Refer to your schools job board (i.e. Handshake; Gatorlink; 12Twenty) for more information.
Jobs Near You
Personal Vacation Planner Agent (Virtual)

Sales, Vacation Planner

, Ak-Chin Village, Arizona, Anchorage, Alaska, Cooper Landing, Alaska, Copper Center, Alaska, Denali National Park, Alaska, Fairbanks, Alaska, Healy, Alaska, Juneau, Alaska, Ketchikan, Alaska, Skagway, Alaska, Trapper Creek, Alaska, Al-Mar, Indiana, Adero Az, New Mexico, Long Beach, California, Los Angeles, California, Santa Clarita, California, Co-op Village, Arizona, Washington D.C., District of Columbia, De Pere, Wisconsin, Florida

09/21/2023

Sr. Governance and Risk Management Analyst (Remote)

Security

Miami, Florida

09/23/2023

Sr. HR Global Ports Manager (Remote)

Human Resources

Miami, Florida

09/22/2023