Make a difference from
spreadsheet to swimming pool.
Take your talent to new places.
Search all Shoreside Careers
Sr. Manager, Social Media
Apply
Job Description
Company:
CARNIVAL CRUISE LINE
Area of Interest:
Communications Services
Location:
Miami
State:
Florida
Job Title:
Sr. Manager, Social Media
Job Description:
We are hiring a Sr. Manager, Social Media! This position will act as the subject matter expert and owner for social products, services and capabilities and work closely with external and internal teams to define product roadmaps, requirements, coordinate resources and guide the team through key product milestones. The Sr. Manager, Social Media is a key contributor and driver of the daily programing across Carnival's social media channels.  The position includes writing/designing content, overseeing both agency and creative production service external resources, and developing strategies and implementing tactics to drive higher engagement from Carnival loyalists and cruise rookies.  This individual also supports colleagues in public relations, marketing, dining & onboard entertainment, retail, sales, and events to leverage brand sponsorships, social campaigns, PR events, onboard activities, celebrities and product launches to raise social media visibility of the Carnival brand.  Ultimately, the position needs to leverage social media assets and resources to drive more consideration for cruise, stronger loyalty to Carnival, and higher conversion and purchase of Carnival cruise offerings. This position will also oversee content shoots for owned and branded content. Additionally, the individual will also be responsible for identifying, tracking & optimizing against key performance indicators.
Essential Functions:
BRANDED/ SOCIAL CONTENT – Oversee the development of segment-specific branded content that is useful, entertaining or demonstrates values, and facilitates product placement and viral sharing to introduce cruising and Carnival to rookies. Develop segment-specific content for each major and emerging social platform that leverages destinations, ship features/programming and cruise deals to inspire, educate and engage fans
TECHNOLOGY - Develop strategy for, build and manage digital & social loyalty, identity-based utilities social loyalty and advocacy and bespoke community across specific owned channels.  Experience with social/mobile technical development (experience in chat bots and voice); Strong knowledge base with 360/VR/AR experiences; Experience working with AI
STRATEGY AND CHANNEL - Work with director to create and implement our digital engagement and content strategy across social channels. Deliver high impact strategy and execution at every level of funnel from awareness to consideration to conversion. Leverage social media channels to target new audiences, build brand buzz and drive demand/traffic. Partner with agency/team to create events/activations that are digitally/socially driven. Oversee the development of strategy for, build and manage digital & social loyalty, identity-based utilities social loyalty and advocacy and bespoke community across specific owned channels. Potential expansion of output may apply to other channels, e.g., Booked Guest site, Carnival App.


SHIPBOARD SOCIAL/CELEBRITY & PARTNERSHIP ACTIVATION – Collaborate with Ops and Partnerships to activate celebrities & brands to extend reach via their fans and grow Carnival's fans and engagement; Collaborate with Ops to leverage photos/videos taken of the customers, taken by customers or taken by team members to drive social advocacy and share of voice
PRODUCT MANAGEMENT- Demonstrated ability to drive product research, planning, development, and launch products successfully.Collaborate with internal partners and external platform partners. Design, manage, and execute on the vision for key social and digital products and supporting services across multiple platforms. Identify immediate and/or future consumer needs, and then work with the team to develop a product plan that addresses them. Strategically evolve and grow existing products and services to constantly deliver a better user experience. Gather product requirements, and document them accordingly for projects in development
SOCIAL COMMUNITY – Grow fans.  Evolve chat platform to support web conversion and customer service.  Leverage social platforms and HUB app to enable customers to engage with each other before, during and after sailings. 
SHIP OR FEATURE LAUNCH – Develop and manage social marketing campaigns to launch new ships or features in a large way that generates earned media
AGENCY AND BUDGET MANAGEMENT –  Manage agencies (social and video production) ensuring the highest quality output, and manage expenses against budget continuously seeking efficiencies   Manage annual agency budget of $500K + 
Minimum Qualifications:
Bachelor's Degree or Master's degree in Marketing, Communications or Journalism preferred.
8+ years of experience
Experience in managing content, campaigns and communities across social platforms.  
Ability to develop branded content and social campaigns that engage fans, drive social advocacy and inspire viral sharing. 
Executive maturity to work with 3rd party agencies, creative talent and media vendors, service-orientation to work with the commercial and operating teams, and communication skills to liaise with senior management and peers.  
High passion and positive attitude, organized and able to multi-task, and track record for delivery and agile piloting.
Proficient in MS Office products (Word, Excel, PowerPoint) and social monitoring tools (Sprinklr)  
Benefits as a member of Carnival's Team:
A comprehensive healthcare program, dental coverage and flexible spending accounts.

Company-paid term life insurance and long term disability coverage, employee-paid optional life insurance and other voluntary insurance programs.

A 401(k) plan that includes up to a 3% company match after one year of service and a discretionary-profit sharing contribution in your second year of eligible employment.

Tuition Reimbursement that provides up to 75% reimbursement for company related professional career development.

Employee Stock Purchase plan that provides up to a 15% discount off the Fair Market Value of Carnival Corporation Common Stock.

Paid vacation and sick time.

Two complimentary "Fun Ship" cruises a year (based on available space and seniority) as well as discounted rates to friends and family in addition to other discounts to local and neighborhood vendors.

An on-site fully accredited preschool educational program that provides developmentally appropriate educational programming for families of children ages 6 weeks through 5 years of age and up to 12 years of age during school holidays and summer vacation in addition to drop-in care for those unexpected childcare conflicts.

An on-site Health and Wellness Center that provides a full range of activities including weight training machines, free weights, cardiovascular equipment, an aerobic center, massage therapy, certified personal trainers and a wide variety of other programs.
About Carnival Cruise Line
Carnival Cruise Line is the most popular cruise brand in North America and operates 25 ships designed to foster exceptionally fun and memorable vacation experiences at an outstanding value. Carnival Cruise Line is the leading provider of year-round Caribbean cruises and also operates seasonal cruises in Europe, Alaska, New England, Canada, Bermuda, Hawaii, Mexican Riviera and the Panama Canal. The brand caters to a wide consumer demographic, appealing to families, couples, singles and seniors alike. One common denominator among Carnival's guests is the desire for a truly fun, memorable and enjoyable vacation experience.

Carnival Corporation & plc and Carnival Cruise Line is an equal employment opportunity/affirmative action employer. In this regard, it does not discriminate against any qualified individual on the basis of sex, race, color, national origin, religion, sexual orientation, age, marital status, mental, physical or sensory disability, or any other classification protected by local, state, federal, and/or international law.

For information about FMLA eligibility and guidelines please visit: www.dol.gov/whd/fmla (copy and paste link into your browser)

req11955
Job ID 13048604
Apply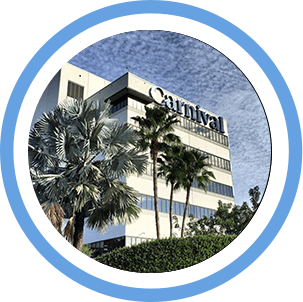 Carnival Corporation
What is it that makes Carnival Corporation & PLC such a desirable place to build a rewarding career? The truth is, there are all kinds of reasons, from great benefits to outstanding opportunities to grow and reach your potential.
Read More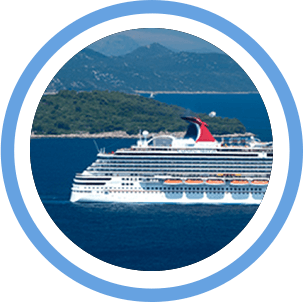 Carnival Cruise Line
Working shoreside with Carnival Cruise Line is an opportunity to shape the future of one of the most recognizable brands in the cruise business – all while developing a career that you can really be proud of.
Read More
Explore all our cruise lines that make Carnival Corporation & PLC the largest vacation company in the world.